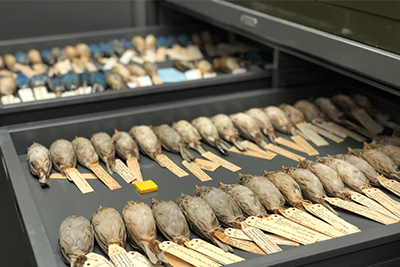 The Georgia Museum of Natural History is an important center of natural history research. 
For almost a century, the University of Georgia has been a center of research in natural history related to the state, the region, and the world. To a large extent the quality of this research is based upon the information and knowledge associated with the 14 collections affiliated with the Georgia Museum of Natural History. These collections represent research conducted in dozens of fields of study. They are crucial for graduate research and training programs in their respective academic departments. Each year the personnel associated with these collections generate approximately 100 scientific publications and average over $1,500,000 in contracts and grants. The collections themselves represent voucher specimens for the research and the data associated with each of the collections contains an important base for future research. 
The research activities associated with the collections encompass both basic and applied fields of study. Though not exclusively so, much of this research relates to Georgia and the southeastern United States. Basic research in archaeology, zoology, botany, and geology is important in conducting applied research needed to manage Georgia's cultural and natural heritage wisely to ensure it will survive for future generations. Detailed knowledge is critical to the intelligent management of this heritage Much of this information is used by government agencies and private organizations. 
The Museum supports undergraduate and graduate research in natural history through the annual Joshua Laerm Academic Support award.