The Museum's education outreach program is pleased to offer local and regional schools, as well as special interest groups, the opportunity to visit one or more of our collections. Collections presently available for tours include: Archaeology, Arthropods, Botany, Herpetology, Ichthyology, Invertebrates, Mammalogy, Ornithology, and Zooarchaeology. 
Hours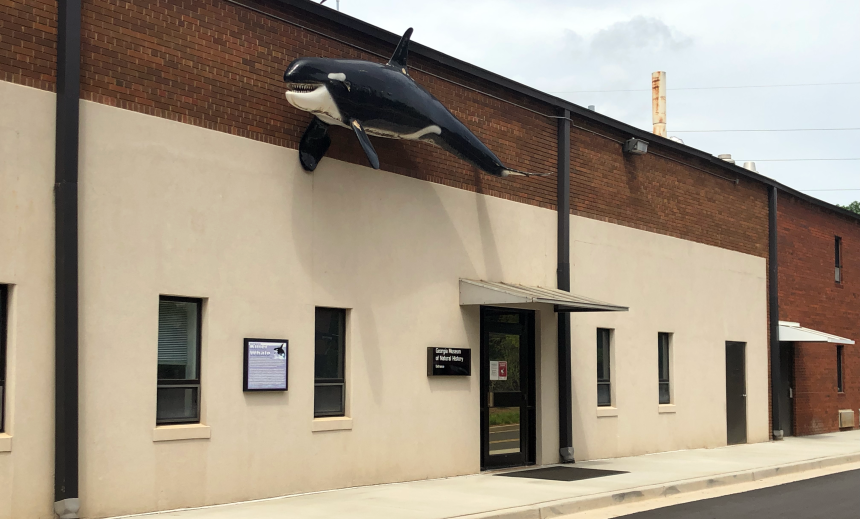 Exhibit Gallery Hours
Summer 2022
Tuesday - Thursday
The Gallery is closed the week of 23 June and on the following Monday 
10:00 am until 4:00 pm  
The exhibit gallery is free
The Museum will also be CLOSED on Federal and university holidays:
Due to current construction, the visitor parking spaces are currently limited. A few spots may be found underneath the shark alongside the building. Guest parking passes are available inside from gallery docents. If no visitor spots are available, you can use UGA pay parking decks during weekday work hours (8am-5pm).
Locations
Georgia Museum of Natural History
The Natural History Building is located on the University of Georgia campus at the corner of East Campus Drive and Cedar Street (101 Cedar Street). This building houses the administrative and educational offices of the museum, as well as the Arthropods, Ornithology, and Zooarchaeology Collections. Visitors may park in the parking lot adjacent to the building. They should request a visitor's parking permit from the Museum office.
The Museum Curation Annex is located in the Administrative Services at 4435 Atlanta Hwy.  This building houses a variety of collections, including Mycology, Mammalogy, Ichthyology, Herpetology, Genomics, Aquatic Invertebrates including freshwater and marine mollusks, crustaceans, and corals.  Inquiries for scientific visits should be directed to Nikki Castleberry (neotomaATuga.edu or Byron Freeman (budfreeATuga.edu)
Botany Herbarium
The Botany Herbarium is located in the Miller Plant Sciences Building on the University of Georgia campus at the corner of Brooks Drive and Carlton Street.