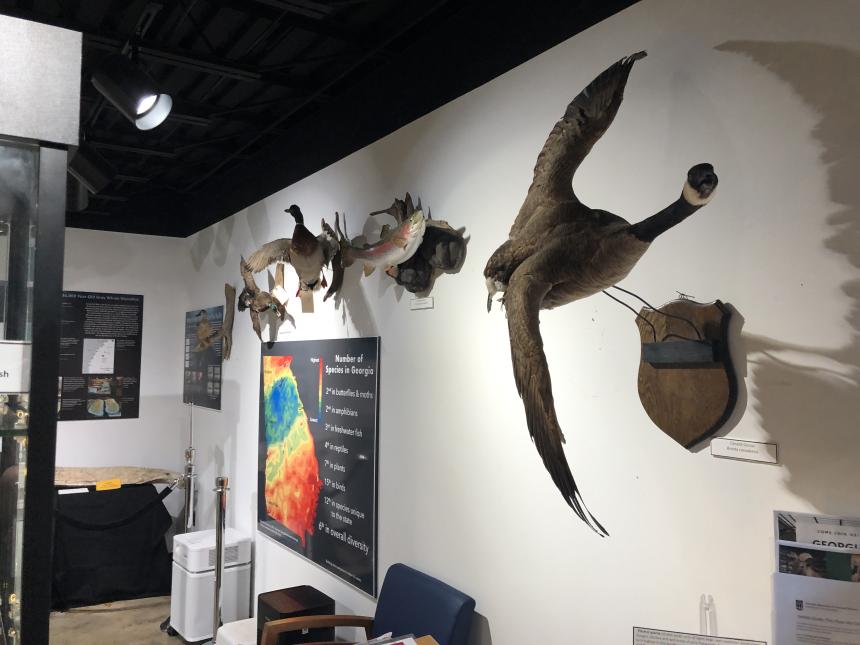 Summer 2022:
The Museum Gallery is open from 10-4 Tuesday-Thursday for the summer. Hours will change for the Fall 2022 Semester.
The Museum's education outreach program is pleased to offer local and regional schools, as well as special interest groups, the opportunity to visit one or more of our collections. Collections presently available for tours include: Archaeology, Arthropods, Botany, Herpetology, Ichthyology, Invertebrates, Mammalogy, Ornithology, and Zooarchaeology. 
Please review the Georgia Museum of Natural History Group Tour Guidelines. 
Scheduling Tours
To schedule a tour of the collections housed at the Georgia Museum of Natural History (Arthropod, Herpetology, Ichthyology, Invertebrates, Mammalogy, Ornithology, and Zooarchaeology Collections), please contact:
Byron Freeman, Director
budfree@uga.edu
OR
musinfo@uga.edu
fax: (706) 542-3920
phone: (706) 542-1663 
To schedule a tour with one of the Museum's affiliated collections, please contact: 
Laboratory of Archaeology
Amanda Thompson
Asst. Director, Laboratory of Archaeology
arobthom@uga.edu
(706) 542-8737
Herbarium
Plant Biology Department Herbarium Curator
ugaherb@plantbio.uga.edu
(706) 542-1823