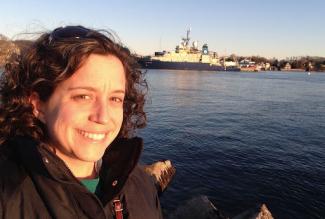 Dr. Rebecca Helm
Biology
UNC Asheville
Virtual via Zoom
Special Information:
Via Zoom meeting info posted here -- Meeting ID: 957 9251 5959 Passcode: bal33nWa1e
Friends Events
Museum Events
Dr. Rebecca Helm, UNC Asheville 
Our first "Turtle Pond Talk" (for the 2nd year running, alas - not sitting out at the 'turtle pond') is by Dr. Rebecca Helm, who will present on "The mysterious ecosystem of the ocean's surface." Dr. Helm is an Assistant Professor at UNC Asheville and has written about this floating ecosystem for public venues such as The Atlantic. Her passion for this system is rooted in her deep background in developmental biology and diversity of marine ecosystems, we know you will enjoy this!
Stay tuned for Turtle Pond Talks on the first Monday each month of the UGA Academic Year (shifted back a week when there is a holiday), at 10am. Link for viewing these talks is HERE!