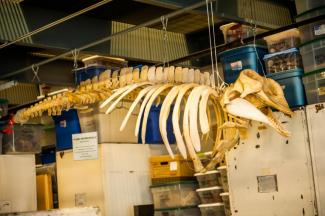 Mary Kahrs Warnell Memorial Garden and Pond
Friends Events
Museum Events
Starting this Fall, the Friends of the Georgia Museum of Natural History will be supporting monthly informal talks by local scientists who work with or benefit from interactions with the Georgia Museum of Natural History. Talks are planned to be outdoors next to the lovely Mary Kahrs Warnell Memorial Garden and Pond, also known as the "Turtle Pond" on South Campus. If the weather is less lovely, we will meet in the nearby River Basin Center building. The Friends will provide coffee, so bring your mug and your natural history interests!
The current line-up for 2019-2020, talks at 10am:
September 9, 2019 – Nikki Castleberry, GMNH, mammal diversity of the southeastern US
October 7, 2019 – Todd Pierson, Postdoc, salamanders and novel behaviors
November 4, 2019 – Sally Walker, Geology, paleontology and marine life
December 2, 2019 – Wendy Zomlefer, Plant Biology, will talk about the UGA Herbarium
January 13, 2020 – Suzie Birch, Anthropology/Geology, quaternary isotope paleoecology
February 3, 2020 – Lizzie King, Warnell/Ecology, native coastal forests
March 2, 2020 – Natalia Bayona, Postdoc, tropical fishes
April 6, 2020 – Kathrin Stanger-Hall, Plant Biology, will prep us for next summer's fireflies!
Watch this space and our Twitter feed @gamusnathist for more information, contact John Wares jpwares@uga.edu if you are interested in presenting next year!