Photo: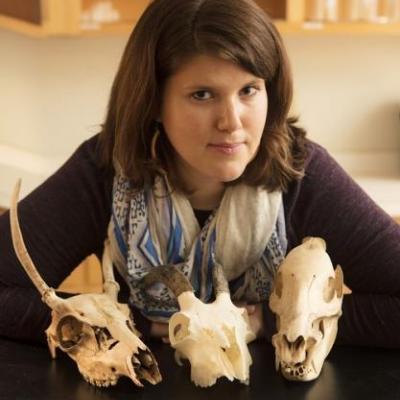 Assistant Professor, Anthropology and Geography
Director, Quaternary Isotope Paleoecology Lab
Coordinator, Georgia Museum of Natural History Internship Program
Contact Info
Office:
Baldwin Hall, 265A
Geography-Geology 103
I hold a joint appointment in the departments of Anthropology and Geography and direct the Quaternary Isotope Paleoecology Lab at the Center for Applied Isotope Studies. 
My research is focused on human adaptation and resilience to climate change and natural resource unpredictability in prehistory, and how our understanding of past human response to environmental change informs current thinking about these issues.
I combine archaeology and biogeochemistry to investigate changes in diet, mobility, and settlement systems in the period spanning the end of the last ice age to the arrival of farming.
My other research interests include the initial domestication of livestock, diffusion of domesticates across Eurasia, the transition from hunting to herding, seasonality and human mobility, multispecies archaeology, and advancing methodologies in zooarchaeology and stable isotope analysis.
I am an active advocate of open access publishing and online data and research sharing. I co-founded and moderate TrowelBlazers, which highlights women in the fields of archaeology, paleontology, and geology. I am also an editor-in-chief of the open access journal for Quaternary science, Open Quaternary. 
Education

Education:

PhD, Archaeology, University of Cambridge, 2012
Research

Research Interests:

Zooarchaeology
Stable isotope analysis
Climate change
Paleoenvironmental reconstruction
Paleozoogeography
Human paleoecology
Hunter-gatherer mobility and subsistence
Mesolithic/Neolithic transition
Balkan, Adriatic, Mediterranean, and Southwest Asian archaeology
Women in archaeology
Digital archaeology
Open access publication/open data
Selected Publications

Selected Publications:

Pilaar Birch, S.E., Scheu, A., Buckley M. and C. Çakırlar. 2018. Combined osteomorphological, isotopic, aDNA and ZooMS analyses of sheep and goat remains from Neolithic Ulucak, Turkey. Archaeological and Anthropological Sciences. DOI: 10.1007/s12520-018-0624-8

Pilaar Birch, S.E. and Vander Linden, M. 2017. A long hard road... Reviewing the evidence for environmental change and population history in the eastern Adriatic and western Balkans during the Late Pleistocene and Early Holocene. Quaternary International. DOI:10.1016/j.quaint.2016.12.035

Pilaar Birch, S.E. 2017. From the Aegean to the Adriatic: Exploring the Earliest Neolithic Island Fauna.  Journal of Island and Coastal Archaeology.  DOI: 10.1080/15564894.2017.1310774